M Bloodsucker
Icon
Type
Special Monster Skill. Timer.
Description
Recovery skill for monster only.
A skill that partially recovers damage done to HP. Bigger the damage, better the effect.
Formula
Recovered HP = Damage taken - [(HP of 1 HP bar) / 100 x (number of HP bars - 1)] (not verified)
HP Recovery for Ed = (Damage taken) - (1 HP bar) / 25
HP Recovery for Steel Gorgon = (Damage taken) - (1 HP bar) / 100
| Level | MP | Casting Time | Cooldown | Ratio | Duration | | |
| --- | --- | --- | --- | --- | --- | --- | --- |
| 1 | 10 | 1.5 seconds | 60 seconds | 1.5 | 200 seconds | | |
| 2 | 10 | 1.5 seconds | 60 seconds | 1.5 | 1,800 seconds | | |
| 3 | 10 | 1.5 seconds | 120 seconds | 1.5 | 45 seconds | | |
| 4 | 40 | 1.5 seconds | 1 second | 1.5 | 300 seconds | | |
| 5 | 50 | 1.5 seconds | 1 second | 1.5 | 300 seconds | | |
| 6 | 60 | 1.5 seconds | 1 second | 1.5 | 300 seconds | | |
| 7 | 70 | 1.5 seconds | 1 second | 1.5 | 300 seconds | | |
| 8 | 80 | 1.5 seconds | 1 second | 1.5 | 300 seconds | | |
| 9 | 90 | 1.5 seconds | 1 second | 1.5 | 300 seconds | | |
| 10 | 100 | 1.5 seconds | 1 second | 1.5 | 300 seconds | | |
| 11 | 110 | 1.5 seconds | 1 second | 1.5 | 300 seconds | | |
Notes:
Recovery cant exceed 1 HP bar.
When the monster is wrapped in the red aura, it instantly recovers lost HP caused by an attack.
Ammount of recovered HP depends on monster's HP.
Damage is taken first, HP recovery follows.
If you can do more damage than monster's HP, monster wont recover.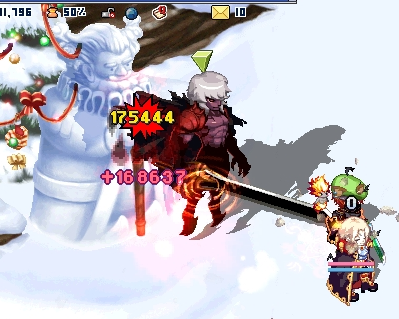 From JP wiki:
赤 [通称]
Red (Alias)
塔ボスが使う特殊スキルの一つ。
赤いオーラを纏った状態になり、
攻撃を受けると即回復してHPゲージ1本の1/25以上のダメージを相殺する。
オーバーキル、赤いゲージに入る時は回復が生じない。
48階は200秒、72階は約30分、60階は短時間放置しておくと解除される。
正式名称不明なので、オーラ、吸血、吸収、バーサクなどとも呼ばれたりする。
Community content is available under
CC-BY-SA
unless otherwise noted.