M Warp
Icon
Type
Special Monster Skill. On - Off.
Description
Sends all enemies within the circle to Megalopolis Square (Map ID: 1).
Formula
N/A
| Level | MP | Casting Time | Cooldown | Mon Delay | Warp Delay | Radius | Map ID |
| --- | --- | --- | --- | --- | --- | --- | --- |
| 1 | 0 | 1 second | 5 seconds | 1.8 seconds | 3 seconds | 150 | 1 |
| 2 | 0 | 1 second | 5 seconds | 1.7 seconds | 3 seconds | 165 | 1 |
| 3 | 0 | 1 second | 5 seconds | 1.6 seconds | 3 seconds | 180 | 1 |
| 4 | 0 | 1 second | 5 seconds | 1.5 seconds | 3 seconds | 195 | 1 |
| 5 | 0 | 1 second | 5 seconds | 1.4 seconds | 3 seconds | 210 | 1 |
| 6 | 0 | 1 second | 5 seconds | 1.3 seconds | 3 seconds | 225 | 1 |
| 7 | 0 | 1 second | 5 seconds | 1.2 seconds | 3 seconds | 240 | 1 |
| 8 | 0 | 1 second | 5 seconds | 1.1 seconds | 3 seconds | 255 | 1 |
| 9 | 0 | 1 second | 5 seconds | 1.0 seconds | 3 seconds | 270 | 1 |
| 10 | 0 | 1 second | 5 seconds | 0.9 seconds | 3 seconds | 285 | 1 |
| 11 | 0 | 1 second | 5 seconds | 0.6 seconds | 3 seconds | 330 | 1 |
Notes:
A circle centered on 1 enemy will appear. (Target is chosen randomly among all enemies within skill's range.)
3 seconds later, any character inside the circle will be teleported to Megalopolis Square.
If you run away out of the circle in time, you will not be teleported.
If you are under the effect of Warp Defense Scroll, you will not be teleported.
Also known as: Banish, Teleport.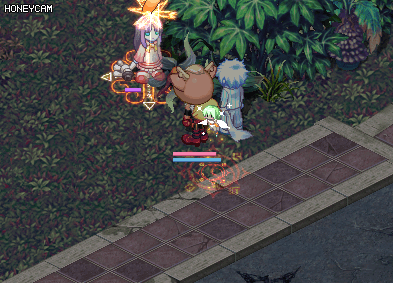 Community content is available under
CC-BY-SA
unless otherwise noted.